After talking the market by surprise through their flash sales on Flipkart, Xiaomi has come up with its another phone loaded with power packed features. Xiaomi mi3 was sold out within seconds on Flipkart, now its time to wait for the budget smartphone.
Xiaomi mi3 price tag at INR13,999/- was a good bargain against the features it offered, which caused the frenzy.
Redmi 1s is a budget segment smartphone giving direct competition to the likes of Moto E, Moto G, Lumia 530 and many more newer entrants.
Design :
Aesthetics is something that attracts a mobile customer. A good design and external features is what this phone prioritizes on. A sleek 9.9mm thickness is far more appealing then its peers.
Available in vibrant colors like red, yellow and cyan it gives a sporty look. Giving you a reason to buy Redmi 1s.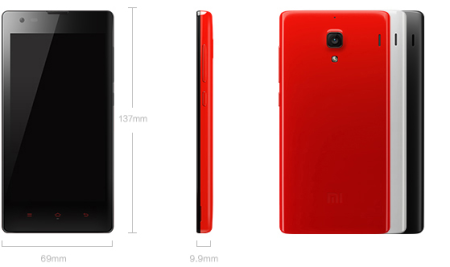 Hardware Specs :
This phone is power packed with hardware that delivers great performance. It comes with a Qualcomm Snapdragon 400 1.6GHz Quad-core processor. The same processor that is part of Moto G. It comes with a standard 1Gb ram but 8 Gb internal storage. Moto G comes with a 8 Gb storage for a higher price tag.
Its peer that come around this price come nowhere near the hardware config that Redmi 1s is offering. It comes with a expandable memory slot for upto 64Gb. The hardware specs are way ahead of what is on offer in the current smartphone market giving one more reason to buy Redmi 1s.
Camera :
You don't need to compromise on the camera quality for spending less. The 8MP rear camera comes with a LED flash and a decent 1.6MP front camera. The camera is capable of capturing true to life images in low quality light. Lumia 530 has a 5MP camera as against Redmi 1s 8MP.
Display :
The 4.7″ display with a 1280 x 720 display with 312 ppi 
delivers superfine text and crisp photos. The In Plane switching technology delivers same image quality when viewed from any angle. Its peers of sub INR10,000/- range don't come with such display capabilities.
Sound :
The Hi-Fi System with Dirac Sound Technology that is used in car stereos like BMW, Bentley, and Rolls Royce. It ensures best possible performance with any headphones you use with it.
Attractive Price :
This is the best reason to buy Redmi 1s. The phone with all the above features at this price is a best buy that is available in the market as on date.
The sale begins on 2nd September 2014.

Related Posts: