Methi chicken is a preparation which has three different tastes blended together in boneless chicken. The bitterness of methi or fenugreek leaves along with sourness of lemon, tomato and spicy chillies just make a perfect blend of taste. The Methi Chicken tastes amazing along with the roti, naan or paratha.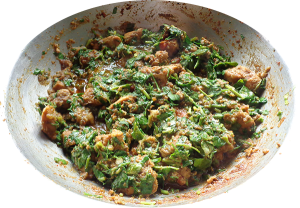 Ingredients for recipe:
1 big bowl of boneless chicken
2 tomatoes chopped small
2 sliced onions
3-4 green chilli
1 cup chicken stock
1 tbsp ginger garlic paste
1 tsp garam masala powder
1 tsp chilli powder
1 tsp coriander powder
1 tsp cumin powder
1/2 tsp turmeric powder
2 tbsp oil
1 cup tender fenugreek or methi leaves
1 tsp lemon juice
Salt to taste
coriander leaves
Preparation Time for recipe :
25-30 minutes
Recipe :
Get the boneless chicken washed and cut into small pieces and keep aside.
Heat the oil in a pan.
Saute sliced onions, till it is pink and translucent.
Add the ginger garlic paste and saute.
Add the chopped tomatoes and vertically slitted green chillies and cook until they are soft and mushy.
Add salt to taste as required.
Add the remaining spices and saute.
Add the chicken pieces and cook until they are well cooked.
Add chicken stock to help chicken cook.
After the chicken gets cooked, add the chopped methi leaves.
Add the lemon juice and chopped coriander leaves to garnish the recipe.
Serve the methi chicken hot with some onion and lemon slices along with hot roti, naan or paratha.
Recipe Tip : The chicken recipe can be prepared in any pan but it is recommended to cook in an iron pan for enhanced taste.
Related Posts: