Devices that can be Jailbreaked using this method:
iPhone 4
iPhone 3GS
iPod touch 4G
Required Tools:
Back up iphone with iTunes.
The latest version of Sn0wbreeze. [Download]
A 30-pin USB cable to plug your device to your PC.
iOS 6.1.3 [Download]
How to jailbreak iOS 6.1.3 using Sn0wbreeze:
Step 1: Download the latest version of Sn0wbreeze v2.9.14. Download the iOS 6.1.3 firmware file for your device.
Step 2: Launch Sn0wbreeze v2.9.14, click on the blue arrow.
Step 3: Click on Browse and point to the IPSW firmware file you downloaded.
Step 4: The firmware will be verified then click on the next arrow and from the next screen just select Simple Mode.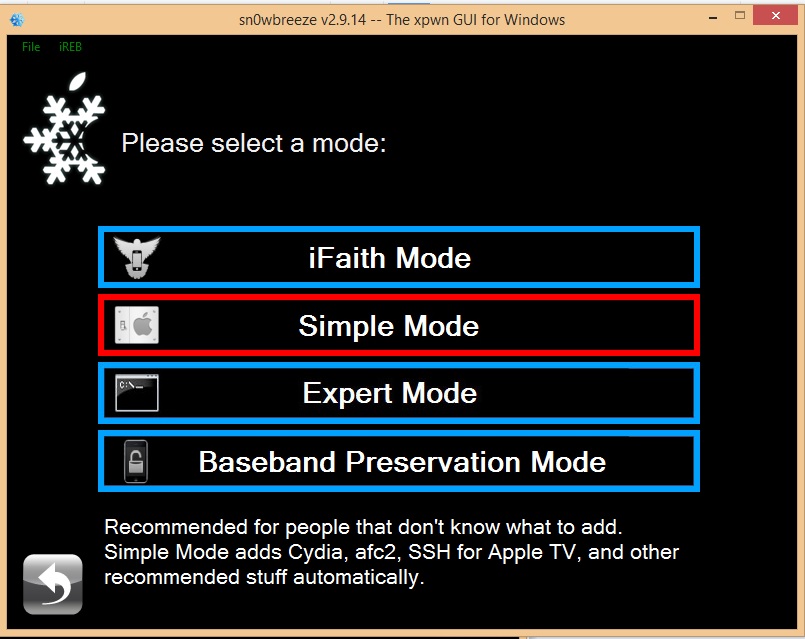 At this point Sn0wbreeze will ask you if you want to activate your iPhone? Select "Yes" if you plan to unlock your phone using tools such as Ultrasn0w. Select "No" if you are on an official supported carrier, or if you have a factory unlocked iPhone.
Step 5: Sn0wbreeze will now start creating the custom iOS firmware file (to preserve the baseband for jailbroken devices), this takes a while.
Step 6: Sn0wbreeze places the new custom firmware on your desktop.
Step 7: Sn0wbreeze will now ask you to enter Pwned DFU mode for which you can follow the instructions on your computer screen. You may miss it at first but kkep trying till you get it right.
Step 8: Once you successfully put your phone in Pwned DFU mode, Launch iTunes keeping your device plugged in to your PC.
Step 9: iTunes will detect your device in recovery mode. On your keyboard hold down the left SHIFT key and click on Restore. Select the custom firmware file from your desktop(this is the no baseband upgrade firmware).
Step 10: Now let your device restore using itunes, this process takes some time.
Step 11: If your device will boot with Cydia installed you have successfully jailbroken your device.
How to boot tethered:
Since this is a tethered jailbreak, and as a part of the whole process, Sn0wbreeze will create a new folder for a utility called iBooty on your desktop.
Please follow these steps to boot tethered:
Step 1: Launch iBooty.
Step 2: Select your device from the drop-down menu which may be probably selected automatically, click on the Start button from within the iBooty interface, and follow on-screen instructions on how to put device in DFU mode.

Once iBooty is done, your device will boot up to your home screen. If your screen shows cydia app installed it means that you have successfully jaibroken your iPhone.
Related Posts: