As we had earlier said why the 'China's Apple' Xiaomi Mi3 was worth the price tag of INR 13,999/-. Today we proved ourselves right. The sales opened today on Flipkart after taking the pre-orders last week. The smartphone Xiaomi Mi3 went out of stock within first 39 minutes on opening day of sales.
The shopping frenzy didn't just stop right here. Flipkart crashed as it could not handle the incoming traffic. The phone was sold out within just minutes which makes it clear why it is called the 'China's Apple'.
Flipkart has again opened a Xiaomi Mi3 pre-order registration window. This window will take bookings from 22nd July to 28 July midnight. We hope Flipkart prepares itself for another wave of buyers hitting them on 29th July when sales open again.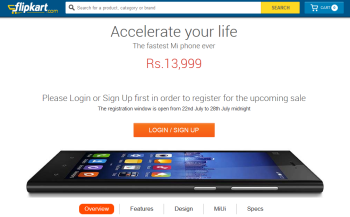 This wave is expected to be much bigger as the buyers waiting on sidelines will jump inside. After such a grand welcome in the Indian markets, Xiaomi will surely look forward to introduce more devices soon.
Xiaomi Mi3 has been impressive in the Indian market and would surely encourage the company to venture into other markets too.
It will be great to watch if Xiaomi Mi3 breaks its record of going sold out within 38 minutes and 50 seconds. We are also looking forward to the Xiaomi wearables that are expected to hit shores anytime soon. They are also said to be a good buy for the tech enthusiast.
Related Posts: