Orkut, the tech giant Google's  baby was born way back in 2004. It was born before the evolution of the term 'social networking'. Surprised, but its true. Orkut first came up with the idea of connecting with friends and socializing online.
The idea of creating profiles, looking out for friend's profile and connecting with them was never termed as 'social networking' during those days.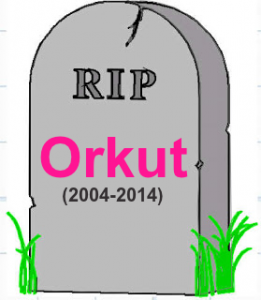 Orkut was instant hit and garnered many active users around the world. Scrapbook that resembled the wall in Facebook did all the talking. Named after its founder Orkut Büyükkökten the website will be finally taken down after 10 years.
Apparently Orkut and Facebook worked on the same principle and provided almost same features so what must have cost the drain of users from Orkut to Facebook resulting in to Orkut failure.
Reasons for the Orkut failure :
1) Facebook was the main reason behind Orkut failure.
2) Though redesigned several times Orkut was not able to retain its user base.
3) In fact the initial design of Orkut was much simpler and user friendly. Later the things became just complicated to access.
4) The website loaded slowly compared to its rival Facebook.
5) Facebook kept it as simple as it could for the user so Orkut's loss was Facebook's gain.
6) Orkut never tried really to take up to revive itself.
7) Introducing Google Plus already meant beginning of the end for Orkut.
8) Orkut should have been what Facebook is today but somehow it lost its momentum and the grip over its users.
9) Orkut failed to engage its users with its features.
Though it failed within 10 years of launch, Orkut will always be remembered as the first stepping stone into the era of Social Networking. It brought the idea of keeping in touch with friends in the busy world. Faraway estranged friends and family came close in the virtual world of Orkut.
This week Orkut will stop accepting fresh signups starting this week and shuts down on 30th Sep 2014.
R.I.P Orkut……
Related Posts: